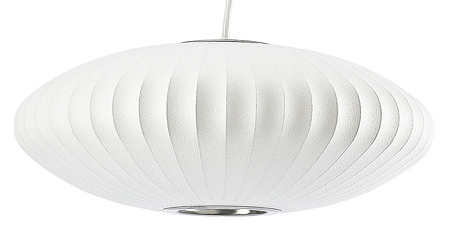 Nelson® Bubble Saucer® Pendant Lamp
George Nelson for Herman Miller® - 1952
An assortment of lights in various spherical silhouettes, the Nelson Bubble Lamps add a touch of softness and luminosity to interiors. Designed by George Nelson in 1952, these elegant fixtures are fashioned from a sturdy, lightweight steel frame yet have a delicate, floating quality.
Herman Miller Sale – 25% off til November 28
Small $561 $420.75
Medium $845 $633.75
Large $1129 $846.75
X-Large $1839 $1379.25 
Materials:
Plastic polymer over steel wire frame. Each lamp comes with a 5.25" brushed, nickel plated steel ceiling plate and 10 feet of cord. Bulb not included. 60 w for the small saucer and 150W for the other sizes. Use a feather duster, a clean soft white cloth, or vacuum with a clean soft brush attachment as needed. For stubborn stains, clean the surface using a soft clean white absorbent cloth with a solution of mild soap and warm water. Wipe down surfaces with the damp cloth and dry with a clean soft white cloth. Avoid using glass cleaners, abrasive cleaning compounds, ammonia, or bleach; they may damage the surface of the plastic and result in discolouration. Make sure cleaning materials are free of grit and other foreign materials.
Dimensions:
Small: 17.5" Dia x 7" H; Med: 25" Dia x 10" H; Large: 35" Dia x 14" H; X-Large: 50" Dia x 22" H