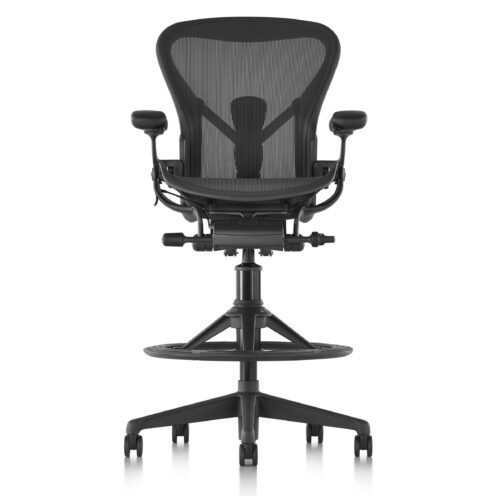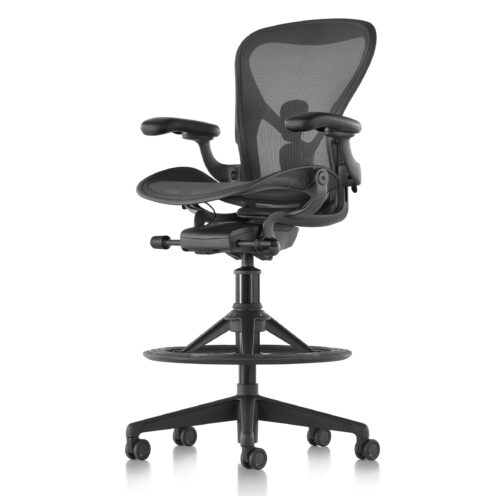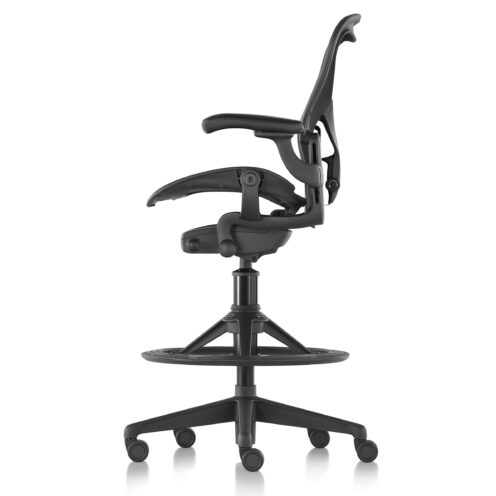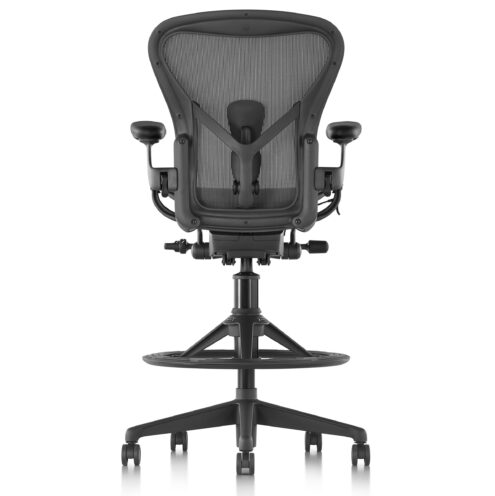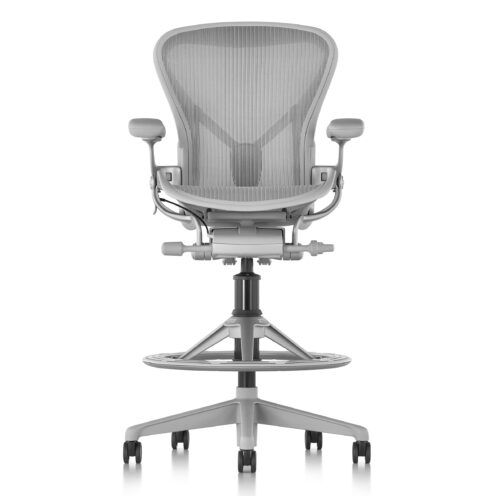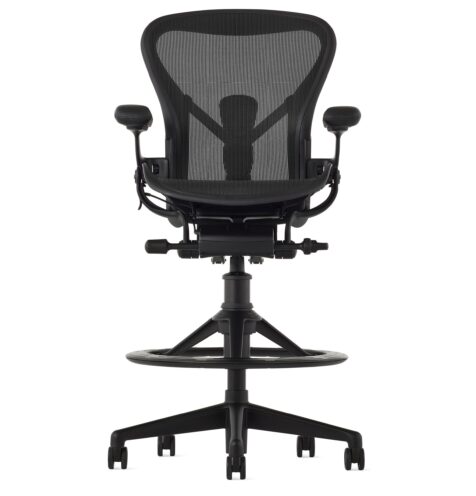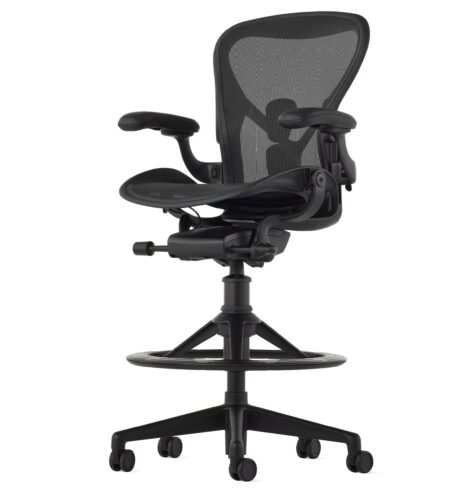 Aeron® Stool
Bill Stumpf and Don Chadwick for Herman Miller® - 2007/2016
The Aeron Stool takes Herman Miller's benchmark for ergonomic seating to new heights, pairing with higher work surfaces, tables, and countertops. Since its launch, Herman Miller has learned a lot about how to best support people—and their postures—during the workday. Aeron offers smarter weight distribution through 8Z Pellicle, an adjustable PostureFit SL for total spinal support, and balanced recline and natural movement thanks to Harmonic 2 Tilt. The remastered design incorporates more than 20 years of ergonomic research.
The Aeron Stool offers user benefits not typically found in performance work stools: The footrest platform is three times wider than the typical foot ring and was designed to provide a large, comfortable area to support your feet. This reduces the pressure and resulting discomfort that's usually created with a smaller foot ring. When you adjust the seat height, the footrest moves with the seat, so you don't have to worry about having to readjust the footrest height as well. Treads along the footrest also ensure that getting in and out of the stool feels comfortable and easy.
Available in three finish options: Graphite, Mineral and Onyx. Graphite is a distinctive dark grey, with a classic textured finish. Onyx is a dramatic ultra-black shade intended to modernize Aeron. Mineral is the lightest and illuminates Aeron's finer points, ideal for open floor plans and spaces. The Aeron Stool is only available in the medium (B) size.
From $2450
Materials:
Only available in the medium (B) size. Available in either low or high height. The low (counter-height) is for a 36" high surface and the high (bar-height) is for a 42" high surface. Basic Stool features: Tilt Limiter, Height Adjustable Arms, Nonupholstered Armpads, Basic Back Support, Multi-Floor Casters (C7). Height-Adjustable Arms adjust 4" vertically from 6.8" to 10.8" from the seat. Fully Loaded Stool features: Tilt Limiter/Seat Angle, Fully Adjustable Arms, Nonupholstered Armpads, Adjustable Posturefit SL Back Support, Braking Multi-Floor Quiet Roll Casters (DC1). Fully Adjustable Arms adjust 4" vertically from a height of 6.8 inches to 10.8 inches above the seat, slide backward and forward over a range of 2.5", and pivot 15 ̊ outward and 17.5 ̊ inward. Three finish options: Graphite Frame/Chassis/Base, Mineral Frame/Satin Aluminum Chassis/Dark Mineral Base or Black Frame/Onyx Ultra Matte Chassis/Onyx Ultra Matte Base. Aeron in size B is tested and warranted for use by persons 350 pounds and under. 12 year warranty. Ships fully assembled.
Dimensions:
Low (Counter Height): 27" W x 17" D x 45.6-49.25" H; 24.75-29.25" Seat H; High (Bar Height): 27" W x 17" D x 49-54.5" H; 28-34.25" Seat H