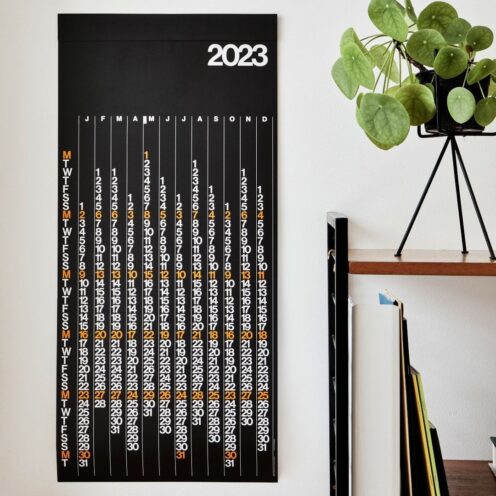 V Calendar 2023
Yoshiki Waterhouse and Beatrix Cifuentes for Kit
Created by Massimo Vignelli's former associates Yoshiki Waterhouse and Beatriz Cifuentes, the V Calendar pays homage to the late maestro's modernist aesthetic and design ethos. Deploying Vignelli's signature tightly-kerned Helvetica, Cifuentes and Waterhouse lay out all 365 days on a single sheet, forming an undulating pattern across the year.
Every year, the calendar is printed in a different set of colours. This year, it's a classic black, with white lettering. Mondays are highlighted in a warm orange.
The V Calendar's condensed, vertical format is designed to fit most spaces in the home from the fridge door to the office wall and beyond. The calendar is topped by a triple-folder header for extra structure, and supplied with 3M hanging strips. The V Calendar comes with a set of 12 white, peel-off stickers designed to be stuck to the left of the current month's letter to mark the passage of time. The stickers can be easily peeled off at the end of each month, or left in place, forming a 'progress bar' throughout the year.
We are unable to sell our V Calendars online but they are now available in-store. Please contact us to reserve yours today.
40% off 2023 Calendar
$69.95 $41.97
Materials:
Manufactured in the UK with paper sourced from Sweden. Both the calendar and the packaging are 100% recyclable. Supplied with 3M poster strips for easy adhesion to the wall.
Dimensions:
16.3" W x 34.5" H